Amplified Arts works to enhance our community and its creative economy through the shared experiences of live theatre, music, art, and cinema.
Amplified Arts helps to create theatrical work of artistic excellence, and soon will screen award-winning film and locally made movies, host local and regional musicians and showcase artists from all over the region, state and New England. All programs are inclusive and accessible. They empower and inspire the imaginations of the artist, audience, and community alike.
We provide access to the arts through arts education and multiple types of arts experiences under one roof. It is at the core of what makes Amplified Arts a great fit for Claremont, an underserved region in New Hampshire.
We work with other organizations to promote their mission as well as build awareness of their work in the community.
We believe by offering these types of opportunities to the masses in one location; our community will become a more vibrant arts community, making Claremont and the surrounding areas a more enriched place to stay, work and play!
The venue also provides rental space for private event rental, corporate events, and classroom space.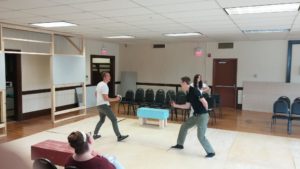 Photos courtesy of Kristin Small Photography from "The Importance of Being Earnest" 2016 & fencing rehearsal images from "HAMLET" 2017